What is a Seminar?
The Mathematics Program has two seminars: The Undergraduate Mathematics Seminar, and the Graduate Mathematics Seminar.  The seminars consist of invited lectures on contemporary mathematics and applications of mathematics to other areas of study and life. Topics have included mathematics education, physics, mathematics research, and interdisciplinary applications of mathematics, like biological and ecological mathematical modeling.
The Undergraduate Mathematics Seminar is held during Math 499: Senior Colloquium, 4:30-5:20PM, on certain days (see the schedule below).  The Math 599: Graduate Mathematics Seminar is held every Monday 6:00-7:00PM.  Because of the Covid-19 pandemic, seminar talks will be done virtually. All mathematics students and faculty will obtain the Zoom links and passwords internally via email. If you need the link, please email Dr. Alona Kryshchenko at alona.kryshchenko@csuci.edu for the graduate seminar (Math 599) and Dr. Ivona Grzegorczyk at ivona.grzegorczyck@csuci.edu for the undergraduate seminar (Math 499). Please see check back periodically. Everyone is invited to attend!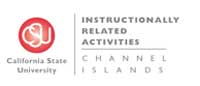 The Undergraduate Mathematics Seminar is sponsored by Instructional Related Activities Funds.
What are the strengths of this series?
The seminars give our students the opportunity to see math at work. There is a good portion of our enrolled undergraduates that are interested in teaching. While we make sure to bring in speakers that discuss mathematics education, we also want our students to experience other fields. We do so by exposing them to the careers in mathematical research, academia, and industry via our speakers. Our students have the opportunity to follow up with the speakers if they wish, thus widening their network. 
Spring 2022 Undergraduate Mathematics Seminar
Date/Time

Location
Speaker
Title 

February 28, 2022

4:30 PM

Zoom
Kenia Pina, Chevron Corporation
Biomarker Discovery by Semi-Supervised Non-Negative Matrix Factorization (PDF, 262KB)

February 21, 2022

4:30 PM

Zoom
Wini Just, Ohio State University
COVID Models: What is behavioral epidemiology and what does math have to do with it?

February 7, 2022

4:30 PM

Zoom
Artem Moskalenko
Assessment of academic performance in mathematics & self-belief of CI's students
Spring 2022 Graduate Mathematics Seminar
Past Mathematics Seminars
Date/Time
Type
Location
Speaker
Title

November 29, 2021

6 PM

Graduate
Zoom

Graduate Students:

Sheena Mogan
Artem Mosaklenko
Panchami Divakar Phadke

November 22, 2021

6 PM

Graduate
Zoom

Dr. Jorge Garcia, CSUCI

A computable formula for the class number of... (PDF, 546KB)

November 15, 2021

6 PM

Graduate
Zoom

Julian David Otálvaro, Children's Hospital Los Angeles

Reinforcement Learning and How to Use it to Automate the Population Pharmacokinetics Model Building Process (MS Word, 235KB)

November 1, 2021

6 PM

Graduate
Zoom
Asma Moalla, Sfax, Tunisia
A Semantic Analysis of the Creation of Humor by
Intercultural Encounters (PDF, 200KB)

October 25, 2021

6 PM

Graduate
Zoom
Krzysztof Gorski
Cosmology and Measurements of Anisotropy of the Cosmic Microwave Background; Satellite Mission Planck

October 25, 2021

4:30 PM

Undergraduate
Zoom
Krzysztof Onzol, CSUCI 
Archeological Genetics

October 18, 2021

6 PM

Graduate
Zoom
Winfried Just, Ohio University
What's behavioral epidemiology and what does math have to do with it? (PDF, 318KB)

October 11, 2021

6 PM

Graduate
Zoom
Mollie Zechlin Halverson
Private Set Intersection and its Relevance in Big Tech Today (PDF, 485KB)

October 11, 2021

4:30 PM

Undergraduate
Zoom
Vickie Chen, California Lutheran University
Relatively Prime Densities (MS Word, 3694KB)

October 4, 2021

6 PM

Graduate
Zoom
Ricardo Suarez, University of Turin
Spin Structures on Riemann Surfaces (PDF, 354KB)

September 27, 2021

6 PM

Graduate
Zoom
Archana Thakur
Understandings of Functions Amongst Math vs Liberal Studies (MS Word, 269KB)

September 22, 2021

4:30 PM

Undergraduate
Zoom
Cynthia Flores, CSUCI 
Presentation Poster (PDF, 1026KB)

September 20, 2021

6 PM

Graduate
Zoom
Margaret Mart
The Impact of Teacher Self-Efficacy on Methodology and the Use of Graphing
Technology in Teaching Factoring Quadratic Functions: Perspectives of
International Introductory Algebra Teachers (PDF, 566KB)

September 20, 2021

4 PM

Undergraduate
Zoom
Margaret Mart
Teacher Efficacy (PDF, 230KB)

September 13, 2021

6 PM

Graduate
Zoom
Nausheen Ahmed
Math in Supply Chain (PDF, 756KB)

August 30, 2021

6 PM

Graduate
 Zoom
Rong Chen
Path Integral Quantum Monte Carlo Calculations of Light Nuclei (PDF, 703KB)

May 3, 2021

6 PM

Graduate
Zoom
Dr. Oleksandra Kollie, Kyive National University of Taras Shevchenko
Analysis and Prediction of Sales Data Using Parametric and Non-Parametric Methods (PDF, 227KB)

April 26, 2021

6 PM

Graduate
Zoom
Dr. Qimin Huang, Case Western Reserve University
Mathematical Modeling of Infectious Diseases (PDF, 458KB)

April 19, 2021

6 PM

Graduate
Zoom
Dr. Aadrita Nandi, University of Michigan Medical School
Evaluating the Probability of Outbreak and Spillover in Stochastic Epidemic Model (PDF, 286KB)

April 12, 2021

6 PM

Graduate
Zoom
Dr. Lidia Mrad, Mount Holyoke College 
Self-assembly in Chromonic Liquid Crystals (PDF, 775KB)

April 5, 2021

6 PM

Graduate
Zoom
Dr. Lorena Bociu, NCSU
Analysis and Control of Porous Media Flows with Applications in Ocular Perfusion (MS Word, 306KB)

March 29, 2021

6 PM

Graduate
Zoom
Dr. Mirjeta Pasha, ASU
Krylov subspace methods as a tool to solve large-scale inverse problems and estimate maximum a posteriori for non-Gaussian noise (PDF, 1238KB)

March 22, 2021

6 PM

Graduate
Zoom
Dr. Brian Sittinger, CSUCI
Quotients of Primes in a Number Ring (PDF, 350KB)

March 8, 2021

6 PM

Graduate
Zoom
Ricardo Suarez, University of Turin grad
Coherent Sheaves and Vector Bundles (PDF, 215KB)

March 8, 2021

4:30 PM

Undergraduate
Zoom
Anna Wan, University of Southern Mississippi
COVID PPE: Engineering Design Cycle with Local Hospital System (PDF, 1107KB)

March 1, 2021


6 PM

Graduate
Zoom
Dr. Malidi Ahamadi, AMGEN

Modeling and Simulation in Drug Development (PDF, 265KB)

February 22, 2021


6 PM

Graduate
Zoom
Dr. Hwayeon Ryu, Elon University

Bifurcation and Sensitivity Analysis in a Model of Macrophage Polarization (PDF, 176KB)

February 15, 2021

6 PM

Graduate
Zoom
Dr. Malena Español, Arizona State University
Re-Imaging the World with Linear Algebra (PDF, 256KB)

February 8, 2021

6 PM

Graduate
Zoom
Dr. Sohui Lee, CSUCI Writing & Multiliteracy Center Faculty Director
Introduction to the Literature Review Essay for Mathematics Graduate Students (PDF, 396KB)

February 1, 2021

6 PM

Graduate
Zoom
Dr. Rebecca Segal, Virginia Commonwealth University
Using Mathematics to Understand Biology (PDF, 216KB)

November 30, 2020

6 PM

Graduate
Zoom
Jordan Kinberg, CSUCI Graduate Student
The Distribution and Moments for the GCD of Ideals in the Gaussian Integers (PDF, 190KB)

November 23, 2020

6 PM

Graduate
Zoom
Dr. Delil Martinez, California Lutheran University
Parameter Estimation: An Alternative POV (PDF, 290KB)

November 16, 2020

6 PM

Graduate
Zoom
Dr. Jorge Garcia, CSUCI
Sum of Squares Residues Formulas (PDF, 200KB)

November 9, 2020

6 PM

Graduate
Zoom
Dr. Sui Tang, UCSB
Learning Interaction Laws in Multi-Agent Systems from Data (MS Word, 698KB)

November 2, 2020

6 PM

Graduate
Zoom
Dr. Linda Ness, DIMACS Center at Rutgers
Fitting Small Neural Net Models to 'PL-Smoohtly' Interpolate Data Sets: Examples (PDF, 297KB)

October 26, 2020

6 PM

Graduate
Zoom
Dr. Emily Fairfax, CSUCI ESRM
Smokey the Beaver: Can beaver dams keep riparian corridors green during wildfire? (PDF, 1569KB)

October 19, 2020

6 PM

Graduate
Zoom
Dr. Chuntien Wang, University of Alabama
Initial and boundary value problems for the deterministic and stochastic Zakharov-Kuznetsov equation in a bounded domain (PDF, 334KB)

October 12, 2020

6 PM

Graduate
Zoom
Ricardo Suarez, University of Turin, Italy
Clifford Algebras and Their Representations (PDF, 1287KB)

October 5, 2020

6 PM

Graduate
Zoom
Dr. Jesse Elliott, CSUCI
Extensions of the Riemann Hypothesis (PDF, 264KB)

September 28, 2020

6 PM

Graduate
Zoom
Dr. Michael Neely, CHLA Infectious Diseases
Model-Informed Precision Dosing (PDF, 178KB)

September 21, 2020

6 PM

Graduate
Zoom
Lara Kassab, PhD candidate, Colorado State University
Analyzing COVID-19 Twitter Dynamics Using Nonnegative Matrix and Tensor Decompositions (PDF, 210KB)

September 14, 2020

6 PM

Graduate 
Zoom
Dr. Oleg Gleizer, UCLA
The Curse of the 5th Postulate (PDF, 152KB)

May 11, 2020

6 PM

Graduate
Zoom
Victoria Lam, Masters Thesis Presentation 

Theoretical Considerations: Polynomial Regression and Feed Forward Neural Networks Correspondence (MS Word, 144KB)

May 4, 2020

6 PM

Graduate
Zoom
Dr. Anna Ma, UCI

April 27, 2020

6 PM

Graduate
Zoom
Dr. Elena Sizikova, NYU

Shape Synthesis Using Structure-Aware Reasoning and Medical Applications (PDF, 322KB)

April 20, 2020

6 PM

Graduate
Zoom
Dr. Miju Ahn, Southern Methodist University

Learning with Difference-of-Convex Sparsity Functions (PDF, 1170KB)

April 13, 2020

6 PM

Graduate
Zoom
Dr. Grigory Sokolov, Xavier University

Nearly Optimal Adaptive Tests for Object Detection (PDF, 823KB)

April 6, 2020

6 PM

Graduate
Zoom
Dr. Rachel Grotheer, Goucher College

Stochastic Algorithms in Signal Processing and Their Application to Medical Image Reconstruction (PDF, 193KB)

March 30, 2020

6 PM

Graduate
Zoom
Dr. Elizaveta Rebrova, UCLA 

Modewise methods for tensor dimension reduction (PDF, 194KB)

March 9, 2020

6 PM

Graduate
Sierra Hall 2411
Dr. Cynthia Flores, CSUCI

On Theoretical Aspects of Nonlocal Helmholtz Decomposition of a Vector Field  (PDF, 407KB)

March 2, 2020

6 PM

Graduate
Sierra Hall 2411
Dr. Megan Kenny Feister, CSUCI Communications

February 24, 2020

6 PM

Graduate
Sierra Hall 2411
Dr. Jesse Elliott, CSUCI

February 17, 2020

6 PM

Graduate
Sierra Hall 2411
Dr. Daniel Brice, CSUCI

Monoid Comprehensions in the Structure and Optimization of Computer Programs (PDF, 202KB)

February 10, 2020

6 PM

Graduate
Sierra Hall 2411
Shanna Dobson, CSULA

Infinity Topoi and Non-Commutative Iwasawa Theory (PDF, 243KB)

February 3, 2020

6 PM

Graduate
Sierra Hall 2411
Gangyong Lee, Chungnam National University

February 3, 2020

4:30 PM

Undergraduate
Sierra Hall 2411
Gangyong Lee, Chungnam National University

December 2, 2019

6 PM

Undergraduate
Sierra Hall 2411

Dr. Tuncay Aktosun, UT Arlington

November 25, 2019

6 PM

Graduate
Sierra Hall 2411
Graduate Student Presentations: Joan Kim and Thomas LaGrange

The Effectiveness of Recruitment, Preparation, and Support for Mathematics Teachers (PDF, 342KB) and Law of Large Numbers and the Markovian Properties (PDF, 443KB)

November 18, 2019

6 PM

Graduate
Sierra Hall 2411
Dr. Karel Casteels, UCSB

From Quantum Matrices to Totally Nonnegative Matrices (PDF, 178KB)

November 4, 2019

6 PM

Graduate
Sierra Hall 2411
Dr. Selenne Bañuelos, CSUCI

Mathematical Modeling in Sleep Dynamics and Epidemiology (PDF, 349KB) 

October 28, 2019

6 PM

Graduate
Sierra Hall 2411
Dr. Özlem Ejder, Colorado State University

October 21, 2019

6 PM

Graduate
Sierra Hall 2411
Dr. Kenan Ince, Westminster College

October 14, 2019

6 PM

Graduate
Sierra Hall 2411
Dr. Bahareh Abbasi, CSUCI Computer Science

October 7, 2019

6 PM

Graduate
Sierra Hall 2411
Dr. Scott Feister, CSUCI Computer Science

A Guided Safari Tour of Programming Languages for Math (PDF, 788KB)

October 7, 2019

4:30 PM

Undergraduate
Sierra Hall 2411
Ricardo Suarez, CSUCI

September 30, 2019

6 PM

Graduate
Sierra Hall 2411
Monica Mendoza, PhD candidate, UCSB

September 23, 2019

6 PM

Graduate
Sierra Hall 2411
Dr. Tatiana Tatarinova, University of La Verne

September 16, 2019

6 PM

Graduate
Sierra Hall 2411
Dr. Jaime Haddock, UCLA

Analyzing Hybrid Randomized and Greedy Projection Methods (PDF, 306KB)

September 9, 2019

6 PM

Graduate
Sierra Hall 2411
Dr. Claudia Falcon, UCLA

Modeling of thin liquid films flowing down a cylindrical fiber - experiments and applications (PDF, 195KB)

April 29, 2019

6 PM

Graduate
Sierra Hall 2411
Dr. Vladimir Makarov, CSU Channel Islands

April 22, 2019

6 PM

Graduate
Sierra Hall 2411
Dr. Brian Sittinger, CSU Channel Islands

April 15, 2019

6 PM

Graduate
Sierra Hall 2411
Dr. Jordan Schettler, San Jose State University

The Secret behind the Squiggles: A Guitar with Optimally Curved Frets (PDF, 173KB)

April 8, 2019

6 PM

Graduate
Sierra Hall 2411
Dr. Judith Canner, CSU Monterey Bay

The effect of Statistical Error Model Formulation on the Fit and Selection of Mathematical Models of Tumor Growth for Small Sample Sizes (PDF, 277KB)

April 8, 2019

4:30 PM

Undergraduate
Sierra Hall 1411
Dr. Judith Canner, CSU Monterey Bay

Fitting Classical Mathematical Models to Small Data Sets from Lewis Lung and Human Breast Carcinomas (PDF, 277KB)

March 25, 2019

6 PM

Graduate
Sierra Hall 2411
Dr. Crombecque, University of Southern California

Skein Relations and Knot Theory: from Topology to DNA (PDF, 257KB)

March 11, 2019

6 PM

Graduate
Sierra Hall 2411
Dr. Jesse 
Elliott, CSU Channel Islands

Mathematics in Sabbatical-land: Rings, Closures, and Prime Numbers (PDF, 467KB)

March 5, 2019

6 PM

Graduate
Sierra Hall 2411
Dr. Francis Patricia Medina, Worcester Polytechnic Institute 

Deep learning in LiDAR and how mathematical ideas can help us in machine learning (PDF, 410KB)

February 25, 2019

6 PM

Graduate
Sierra Hall 2411
Dr. Tuncay Aktosun, University of Texas at Arlington

Determination of the Shape of a Human Vocal Tract from Speech Sounds (PDF, 202KB)

February 18, 2019

6 PM

Graduate
Sierra Hall 2411
Dr. Michael Soltys, CSU Channel Islands 

Cyberthreats: what can a mathematician do about it? (PDF, 239KB)

February 18, 2019

4:30 PM

Undergraduate
Sierra Hall 1411
Kevin Howe, CSU Channel Islands

February 11, 2019

6 PM

Graduate
Sierra Hall 2411
Dr. Brittany Kamai, Cal Tech

How do we capture more gravitational wave events from Earth? (PDF, 296KB)

February 11, 2019

4:30 PM

Undergraduate
Sierra Hall 1411
Dr. Brittany Kamai, Cal Tech

Exploring the Universe with Gravitational Waves (PDF, 493KB)

February 4, 2019

6 PM

Graduate
Sierra Hall 2411
Dr. Jason Miller, CSU Channel Islands 

Using Mathematics in Service of Conservation: Matrices and Sea Turtles (PDF, 220KB)

October 15, 2018

6 PM

Graduate
Sierra Hall 2411
Dr. Melike Sirlanci, Cal Tech

Modeling Glucose-Insulin Dynamics in Humans

October 8, 2018

Undergraduate
 
Dr. Christopher Ograin, UCSB
 

October 1, 2018

Undergraduate
 
Dr. Jeffrey Stopple, UCSB
 

September 24, 2018

Undergraduate
 
Dr. Delil Martinez, Cal Lutheran University
 

September 17, 2018

Undergraduate
 
Demirkaya Emre, USC

September 10, 2018

Undergraduate
 
Dr. Cynthia Flores, CSUCI
 

April 9, 2018

4:30 PM

Undergraduate
Del Norte 1530
Melike Sirlanci, USC

Modeling of an Alcohol Biosensor Problem with Numerical Results (PDF, 271KB)

March 26, 2018

4:30 PM

Undergraduate
Del Norte 1530
Jarmila Nguyen, CSU Channel Islands

The Beauty of Mathematics and Its Reflections in Everyday Life (PDF, 277KB)

March 12, 2018

4:30 PM

Undergraduate
Del Norte 1530
Dr. Vladimir Makarov, CSU Channel Islands

Case Studies in Predictive Modeling Applications in Health Care (PDF, 771KB)

March 5, 2018

4:30 PM

Undergraduate
Del Norte 1530
Dr. Tatiana Tatarinova, La Verne

Computational Biology: Student International Research Experience (PDF, 1144KB)

February 26, 2018

4:30 PM

Undergraduate
Del Norte 1530
Dr. Brian Rasnow, CSU Channel Islands and Etaluma Inc.

What Should a Digital Microscope Do? (PDF, 526KB)

February 12, 2018

Undergraduate
Del Norte 1530
Ricardo Suarez, University of Madrid

Linear Representations using the Left Multiplication Map (PDF, 380KB) 

November 20, 2017

4:30 PM

Undergraduate
Del Norte 1530
Kayla Roberts, Natalie Huerta, Marie Conteras, Roberts Arotunian, Ty, Cesar Manzo, Dale Perrizolo, David Lary, Luke Burgess, and James Kovacs, CSU Channel Islands

Student Presentations (PDF, 1.007MB)

October 23, 2017

4:30 PM

Undergraduate
Del Norte 1530
Dr. Vitalii Ostrovskyi, Omaze
An overview of community detection algorithms on graphs (PDF, 314KB)

October 9, 2017

4:30 PM

Undergraduate
Del Norte 1530
Dr. Alana Unfried, CSU Monterey Bay
Understanding Pre-College Student Attitudes toward STEM through Statistical Methods (PDF, 666KB)

September 25, 2017

4:30 PM

Undergraduate
Del Norte 1530
Andrea Arauz, PhD candidate at UC Riverside
Calculus on fractals (PDF, 274KB)

September 18, 2017

4:30 PM

Undergraduate
Del Norte 1530
Dr. Jason Miller, CSU Channel Islands
Identifying Bats with Mathematics (PDF, 380KB)

April 17, 2017

4:30 PM

Undergraduate
Del Norte 1530
Dr. Cynthia Wyels, CSU Channel Islands

Asking Good Questions: Thinking Mathematically is your Super Power! (PDF, 1MB) 

March 13, 2017

4:30 PM

Undergraduate
Del Norte 1530
Jarmila Nguyen, CSU Channel Islands

Maximizing Brain Potential for Success in Mathematics (PDF, 705KB)

March 6, 2017

4:30 PM

Undergraduate
Del Norte 1530
Dr. Melisa Hendrata, CSU Los Angeles

Newton-type Methods for Unconstrained Optimization (PDF, 2MB)

February  20, 2017

4:30 PM

Undergraduate
Del Norte 1530
Dr. Jorge Balbas, CSU Northridge

Central Schemes for Nonlinear PDEs: Implementation, Applications, and Visualizations (PDF, 7.3MB)

January 30, 2017

4:30 PM

Undergraduate
Del Norte 1530
Dr. William Southwell, Brigham Young University

Climb the Highest Mountain: A Review of Numerical Optimizations Techniques (PDF, 303KB) 

November 21, 2016

4:30 PM

Undergraduate
Del Norte 1530
Dr. Hwankoo Kim, Hoseo University

Three Ways of Generalizing Unique Factorization Domains (PDF, 492KB) 

October 10, 2016

4:30 PM

Undergraduate
Del Norte 1530
Dr. Alicia Machuca, Texas Women's University

An In Depth Look At Our Old Friend: The Exponential Function y = eax  (PDF, 259KB) 

September 19, 2016

4:30 PM

Undergraduate
Del Norte 1530
Dr. John Rock, Cal Poly Pomona

An Introduction into Fractal Geometry (PDF, 264KB) 

April 25, 2016

4:30 PM

Undergraduate
Del Norte 1530
Dr. Stacy M. Musgrave, Cal Poly Pomona

Mathematical Meanings: An investigation into ways of thinking about average rate of change and consequences for teaching (PDF, 228KB) 

April 18, 2016

4:30 PM

Undergraduate
Del Norte 1530
Talena Williamson, Amgen

Serial Killers, Chaos and Careers in Mathematics (PDF, 2.4MB) 

March 28, 2016

4:30 PM

Undergraduate
Del Norte 1530
Dr. Christina Eubanks Turner, Loyola Marymount University

The Interlace Polynomial of the Friendship Graph (PDF, 1.7MB)

March 7, 2016

4:30 PM

Undergraduate
Del Norte 1530
Dr. Alicia Prieto Langarica, Youngstown State University

Upscaling Discrete to Continuous Mathematical Models (and other interesting things in Mathematical Biology) (PDF, 242KB)

February 27, 2016

4:30 PM

Undergraduate
Del Norte 1530
Dr. J. Brooke Ernest, CSU  Channel Islands

Making the Infinite Seem Finite: Origins and Applications of Projective Geometry (PDF, 170KB) 

February 8, 2016


4:30 PM

Undergraduate
Del Norte 1530
Dr. Alfonso Zamora Saiz, CSUCI


Isomorphisms in Mathematics(PDF, 232KB)

February 1, 2016

4:30 PM

Undergraduate
Del Norte 1530
Dr. Jorge Garcia, CSUCI

Mathemagics and Card Tricks (PDF, 185KB)

November 4, 2015

4:30 PM

Undergraduate
Del Norte 1530
Dr. Kathryn Leonard, CSUCI

October 7, 2015

4:30 PM

Undergraduate
Del Norte 1530
Dr. Gary Sayed, CSU Dominguez Hills

Pathways to Careers in the Medical and Health Professions (PDF, 385KB) 

September 30, 2015

4:30 PM

Undergraduate
Del Norte 1530
Dr. Vincent Pigno, CSU Sacramento

The Lind-Lehmer Constant for Cyclic groups of order less than 892,371,480 (PDF, 272KB)

September 23, 2015

4:30 PM

Undergraduate
Del Norte 1530
Bahar Acu, graduate student at USC

September 9, 2015

4:30 PM

Undergraduate
Del Norte 1530
Matt Dawson, graduate student at UC Davis

Research topics for graduate study in Biostatistics (PDF, 230KB) 

April 21, 2015

4:30 PM

Undergraduate
Del Norte 2350
Geoffrey Buhl, CSUCI

From the White Elephant Game to Congressional Committee Assignments; Valuing Traded Goods (PDF, 130KB)

April 15, 2015

4:30 PM

Undergraduate
Del Norte 2530
Veronica M. Solorzano

Twenty First Century Learners (PDF, 222KB) 

April 8, 2015

4:30 PM

Undergraduate
El Dorado 110
Drs. Alicia Prieto Langarica (Youngstown State University), Pamela Harris (West Point Academy), Selenne Bañuelos (CI), Cynthia Flores (CI)

 Si, Se Puede: Four (PDF, 596KB) 

February 18, 2015

4:30 PM

Undergraduate
Del Norte 2530
Dr. Roger Roybal, CSUCI

Ingress and Graph Theory (PDF, 140KB) 

February 11, 2015

4:30 PM

Undergraduate
Del Norte 2530
Dr. Christopher Towse

What happens when we Sin over and over, without end? (PDF, 219KB)

February 4, 2015

4:30 PM

Undergraduate
Del Norte 2530
J. Brooke Ernest

Making the Infinite Seem Finite(PDF, 438KB)