What is a Seminar?
The Mathematics Program has two seminars: The Undergraduate Mathematics Seminar, and the Graduate Mathematics Seminar.  The seminars consist of invited lectures on contemporary mathematics and applications of mathematics to other areas of study and life. Topics have included mathematics education, physics, mathematics research, and interdisciplinary applications of mathematics, like biological and ecological mathematical modeling.
The Undergraduate Mathematics Seminar is held during Math 499: Senior Colloquium every Monday 4:30-5:20PM.  The Math 599: Graduate Mathematics Seminar is held every Monday 6:00-7:00PM.  Please email Dr. Jennifer Brown at jennifer.brown@csuci.edu for the graduate seminar (Math 599) and Dr. Ivona Grzegorczyk at ivona.grzegorczyck@csuci.edu for the undergraduate seminar (Math 499). Please see check back periodically. Everyone is invited to attend!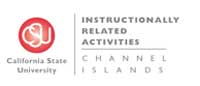 The Undergraduate and Graduate Mathematics Seminars are sponsored by Instructional Related Activities Funds.
What are the strengths of this series?
The seminars give our students the opportunity to see math at work. There is a good portion of our enrolled undergraduates that are interested in teaching. While we make sure to bring in speakers that discuss mathematics education, we also want our students to experience other fields. We do so by exposing them to the careers in mathematical research, academia, and industry via our speakers. Our students have the opportunity to follow up with the speakers if they wish, thus widening their network. 
Fall 2023 Undergraduate Mathematics Seminar
Date/Time

Location
Speaker
Title 

September 11, 2023

4:30 PM

Sierra Hall 2411
TBD
TBA

September 18, 2023

4:30 PM

Sierra Hall 2411
TBD
TBA

September 25, 2023

4:30 PM

Sierra Hall 2411
TBD
TBA

October 02, 2023

4:30 PM

Sierra Hall 2411
TBD
TBA

October 09, 2023

4:30 PM

Sierra Hall 2411
TBD
TBA

October 16, 2023

4:30 PM

Sierra Hall 2411
TBD
TBA

October 23, 2023

4:30 PM

Sierra Hall 2411
TBD
TBA

October 30, 2023

4:30 PM

Sierra Hall 2411
TBD
TBA

November 06, 2023

4:30 PM

Sierra Hall 2411
TBD
TBA

November 13, 2023

4:30 PM

Sierra Hall 2411
TBD
TBA

November 20, 2023

4:30 PM

Sierra Hall 2411
TBD
TBA

November 27, 2023

4:30 PM

Sierra Hall 2411
TBD
TBA
Fall 2023 Graduate Mathematics Seminar
Date/Time
Location 
Speaker
Title

September 11, 2023

6 PM

Sierra Hall 2411
Dr. Cindy Wyels

"

How Mathematical Habits, Curiosity and Serendipity Led to Data Science"

September 18, 2023

6 PM

Sierra Hall 2411
Ricardo Suárez

"Algebraic spinors and geometric structures in dimensions 6, 7, and 8"

September 25, 2023

6 PM

Sierra Hall 2411
TBD
TBA

October 02, 2023

6 PM

Sierra Hall 2411
Jesse Elliott

"Number theory"

October 09, 2023

6 PM

Sierra Hall 2411
Jorge Garcia
TBA

October 16, 2023

6 PM

Sierra Hall 2411
Joshua Bowman
TBA

October 23, 2023

6 PM

Sierra Hall 2411

Dr. T. Serbinowski

"Actuarial Science"

October 30, 2023

6 PM

Sierra Hall 2411
TBD
TBA

November 06, 2023

6 PM

Sierra Hall 2411
Isaac Quintanilla Salinas
"Bootstapping Methods"

November 13, 2023

6 PM

Sierra Hall 2411
Student Presentations
TBA

November 20, 2023

6 PM

Sierra Hall 2411

Guillermo Alesandroni

"

The Magic of Steiner Triple Systems"

November 27, 2023

6 PM

Sierra Hall 2411

M.S. Student Presentations

TBA